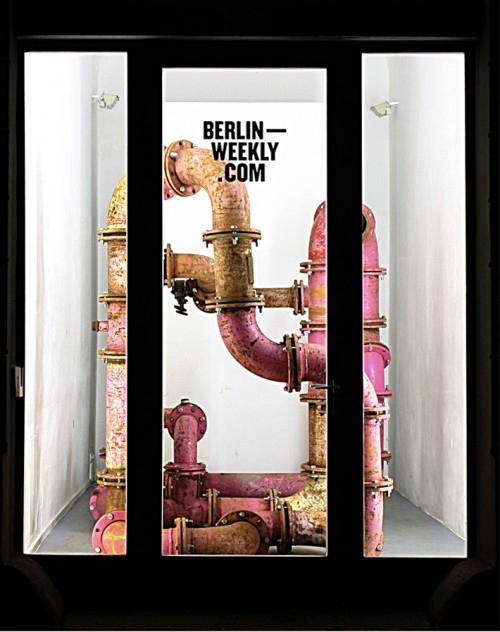 APPARATUS FOR SINKING BODIES by Max Frisinger
Max Frisinger präsentiert in dem verschlossenen Schaufensterraum von Berlin-Weekly in der Linienstraße eine Rauminstallation, die sowohl orts- als auch raumspezifisch zu verstehen ist. Seit einem Jahr sieht man über die fast ganze Länge der Linienstraße hinweg die Rohre zur Absenkung der Grundwasserentsorgung. Mit ihrer auffallenden rosa Farbe und der verschlungenen Linienführung wirken sie wie eine Installation im öffentlichen Raum. Mit seiner Installation APPARATUS FOR SINKING BODIES greift Max Frisinger in diese nach technischen Anforderungen entstandene öffentliche Inszenierung ein und schafft eine eigenständige in sich geschlossene dynamische Skulptur. Hinter der verschlossenen Glastür des Galerieraumes erscheint diese wie ein wertvolles unantastbares Objekt in einer Vitrine ausgestellt und bildet dadurch einen spannenden Kontrast zu der technischen Inszenierung auf der Straße. Das Konzept der Schaufenstergalerie aufnehmend, spielt der Künstler mit den Parametern von Innen- und Außenraum.
Max Frisinger ist 1980 in Bremen geboren. Er lebt und arbeitet in Berlin.
Max Frisinger presents in the closed storefront space of Berlin-Weekly in Linienstraße an installation which is both site- and space- specific. Already since a year one can see thick metal tubes for lowering the groundwater disposal running along the length of Linienstaße. With its striking pink colour and the intricate lines they appear almost like a public space installation . With his installation APPARATUS FOR SINKING BODIES Max Frisinger intervenes in these technical requirements and creates an independent self-contained dynamic sculpture. Exhibited behind the locked glass door of the window gallery space the sculpture acts as a valuable untouchable object in a display case and thereby forms an exciting contrast to the technical structure in public space. Following the concept of the window gallery, the artist plays with the parameters of interior and exterior space.
Max Frisinger was born in Bremen, Germany, in 1980. He lives and works in Berlin. See full information http://max.culturalspot.org/home