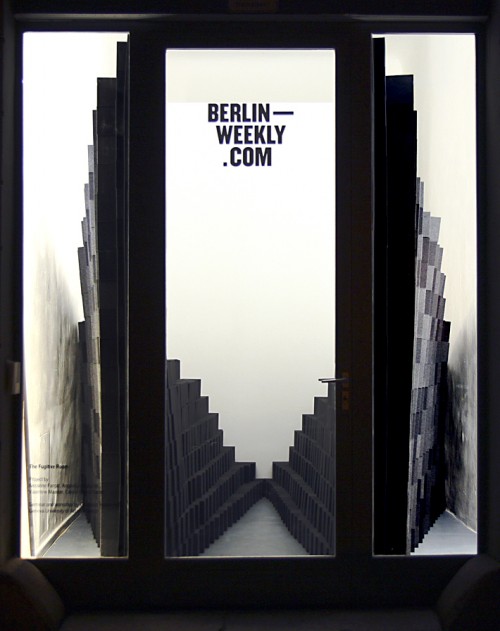 The 'Fugitive Room' by Nessrine Fargal, Angelique Kuenzle, Valentine Maeder, Cecile-Diama Samb
A project by students of space design of the Geneva University of art and design. Guest professors: Pierre Jorge Gonzalez, Judith Haase www.gonzalezhaase.com
Der Ausgangspunkt diese Projekts von Studenten der Geneva University of Art and Design war den Raum mittels eines Objekts selbst auszustellen. Berlin-Weekly präsentiert sich immer frontal aus dem selben Blickwinkel von der Straße aus gesehen. Der vertikale Rahmen des hohen Galeriefensters überlagert den Ausstellungsraum wie ein festes Raster. Bewegung , Blickwinkel und Licht sind die Hauptthemen, die den Raum verkörpern sollen. Die Verlängerung des prägnanten schablonenhaften Fensterrahmens mittels seinen eigenen Schattens stellt eine Verbindung des statischen Rahmens mit dem Ausstellungsraum her. Der Schatten, der sich bewegt wird hier zu einem physischen, realen Objekt.
The starting point of this project is to exhibit the space itself by designing a conceptual object. Berlin-Weekly presents itself always from the same point of view seen from the street. Therefore the outside vision of the gallery always stays the same. Moreover, the vertical frame of the gallery's high window front superimposes itself repetitively on the exhibition space. Movement, point of view and light are the principal themes that conducted this project. The prolongation of the frame via its own shadow reconnects to the frame's staticity within the exhibition space. The shadow that moves becomes a physical and imposing object.