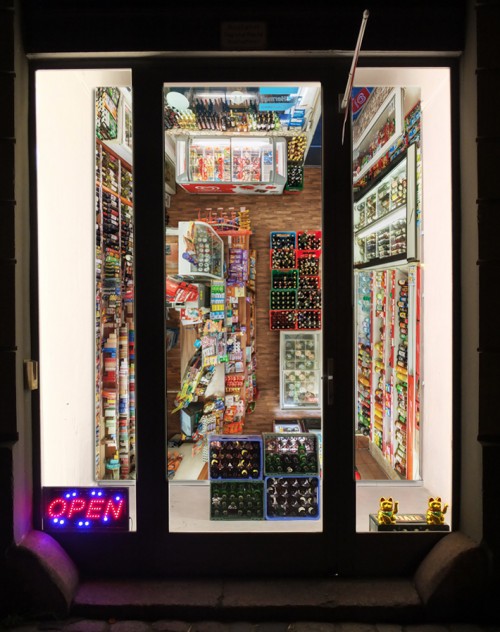 Open Source von Menno Aden

Der in Berlin lebende Künstler Menno Aden hat sich auf Räume und Perspektiven spezialisiert. Menschen sind in seinen Fotoarbeiten so gut wie nie zu sehen. Und doch sieht man in ihnen Spuren, die sie hinterlassen haben. Indem Aden sowohl von Menschen gemachte Ordnungsstrukturen als auch deren in Unordnung geratenen Strukturen abbildet, sind seine Fotoarbeiten indirekt auch Portraits von Menschen.
Für Berlin-Weekly zeigt Aden einen Spätkauf aufgeklappt wie ein Modell. Als wäre die Decke abgenommen lässt sich aus der Vogelperspektive in eine mit Konsumartikeln prall gefüllte Box blicken. Aden stellt die Berliner Institution 'Späti' wörtlich auf den Kopf und lässt den Besucher irritiert zurück. Nicht zuletzt auch, weil ein Spät inmitten der durchgentrifizierten Linienstraße so fehl am Platz erscheint.
Open Source – an Installation by Menno Aden
The Berlin-based artist Menno Aden specialises in the representation of spaces and perspectives. People almost never appear in his photographic work, which instead often focuses on what people have left behind. By depicting man-made order systems as well as their disorder, Aden's work is also an indirect portrait of humans.
For Berlin-Weekly, Aden shows an installation with a Berlin 'Spätkauf' (a 24/7 corner-shop) from a birds eye perspective. As if the ceiling was removed one can look into a box crammed with consumer goods. Aden literally turns the Berlin institution 'Späti' on it's head, and leaves the visitor irritated – not least because of the untypical opening of a 'Späti' in the gentrified and posh Linienstraße.