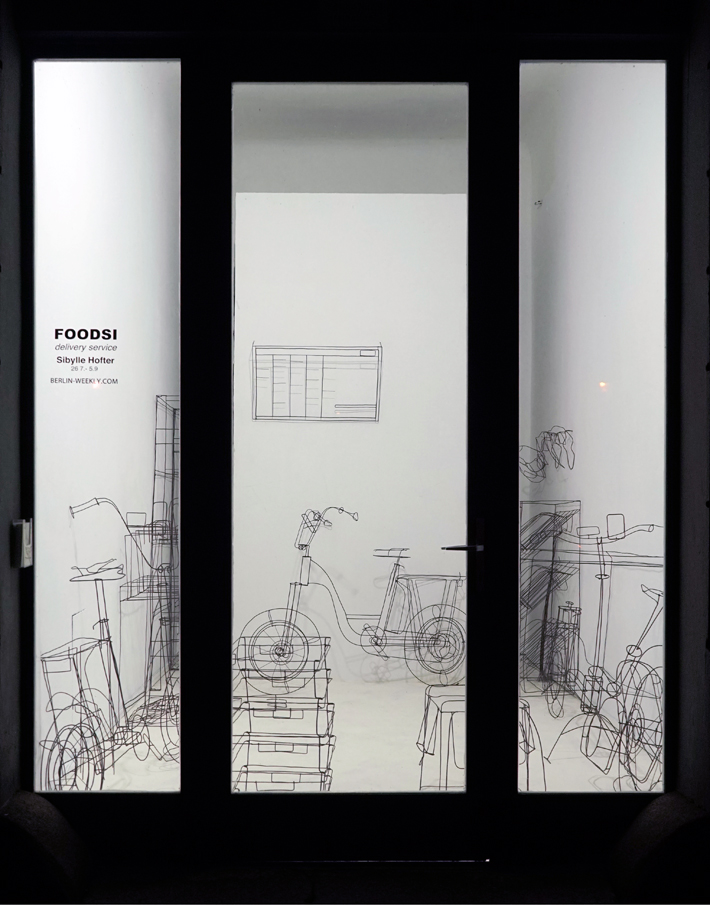 FOODSI von Sibylle Hofter, 2023
Die Künstlerin Sibylle Hofter schafft dreidimensionale Raumzeichnungen freihand aus verschweißtem Eisendraht. Dafür skizziert und vermisst sie das vorhandene Inventar zeitspezifischer Räume und setzt sie im Maßstab 1:1 zur Originalgröße in den physichen Raum um. Die Drahtinstallation Foodsi zeigt die Verteilerstelle eines Lebensmittel Lieferdienstes wie sie in den letzten Jahren in den Zentren der Metropolen als start ups vielfach eröffnet wurden. Aus Draht skizziert sie die dafür nötige Ausstattung inkl. der Lieferfahrzeuge. Durch die Bewegung des Betrachters verschiebt sich die Perspektive auf die räumlichen Verhältnisse, in denen immer auch die rückwärtigen Kanten der Gegenstände sichtbar sind.
english

The artist Sibylle Hofter creates three-dimensional spatial drawings freehand from welded iron wire. For this she sketches and measures the existing inventory of specific spaces and transfers them into physical space on a scale of 1:1 to the original size. The wire installation Foodsi shows the warehouse of a food delivery service, as they have been opened in recent years in the centers of the metropolises as numerous start-ups. Using wire, the artist sketches the necessary equipment, including the delivery vehicles. The movement of the viewer shifts the perspective on the spatial relationships, whereby the trailing edges of the objects are always visible.