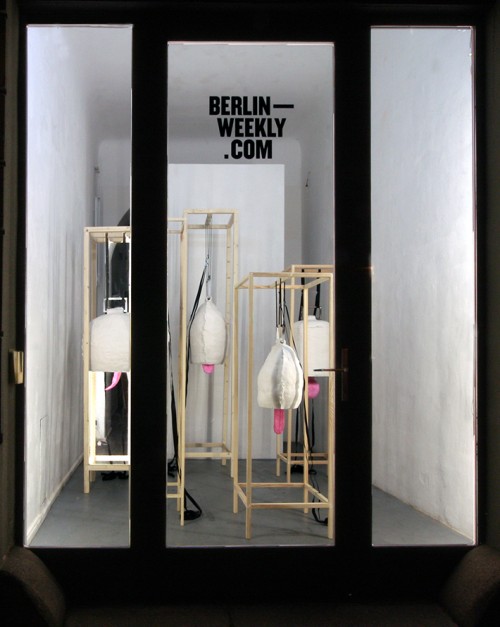 'Silent Bells' von Jerry Kowalsky
2018, (Keramik, Holz) http://www.jerrykowalsky.com
Ausschlaggebende Inspiration für die Installation "Silent Bells" war eine Szene aus dem klassischen Western-Film "Spiel mir das Lied vom Tod", in dem eine alte Kirchenglocke mit ihrem Glockenschlag im Mittelpunkt steht. Die Szene spiegelt einen Zustand der Lähmung wieder, in dem der Zuschauer ein drohendes Unheil kommen sieht, aber passiv völlig starr verharrt und nicht eingreift.
"Silent Bells" untersucht das Spannungsfeld von Stille und Sprache, von Handeln und Zuschauen in Zeiten der Unruhe.
Jerry Kowalsky ist bekannt für seine absurden Figuren und überdimensionalen Objekte, deren Themen sich auf alltägliche menschliche Angelegenheiten und Eigenschaften richten. Gewalt und Konflikte sind ebenfalls ein wichtiges Thema in dem Werk des Künstlers und verweisen auf sein Interesse an der Entwicklung unseres sozialen Verhaltens. Angeregt durch historische Ereignisse wie "Ikonoklasmus" untersucht Kowalsky wie die Menschheit ihren eigenen Verlauf beeinflusst, zerstört und wieder aufbaut – und scheint sich zu fragen, ob der Kurs veränderbar ist.
Obwohl Kowalsky vor Allem für seine Skulpturen aus Karton bekannt ist, ist Ton für ihn kein fremdes Material: an der Kunstakademie studierte er Bildhauerei mit Schwerpunkt Keramik. Jetzt zeigt Kowalsky mit "Silent Bells" seine erst keramische Arbeit seit 10 Jahren.
The key inspiration for the installation "Silent Bells" was a scene from the classic western film 'Once upon a Time in the West', in which an old church bell and its chime stands in the center. The scene reflects a state of paralysis in which the onlooker feels the potential of a threatening desaster coming, but is petrified and does not intervene.
"Silent Bells" examines the tension between silence and language, action and watching in times of unrest.
Jerry Kowalsky is best known for his absurd figures and oversized objects made of cardboard whose issues focus on everyday human affairs and attributes. Violence and conflicts are also an important theme in his work and refer to his interest in the development of human social behavior. Inspired by historical events such as "Iconoclasm", Kowalsky explores how mankind is influencing, destroying and rebuilding its own course – and he seems to be wondering if the course is changeable.
Although working mostly with cardboard, clay is not a foreign material to Kowalski: he studied sculpture at the Academy of Arts with a focus on ceramics. "Silent Bells" is his first ceramic work in 10 years.