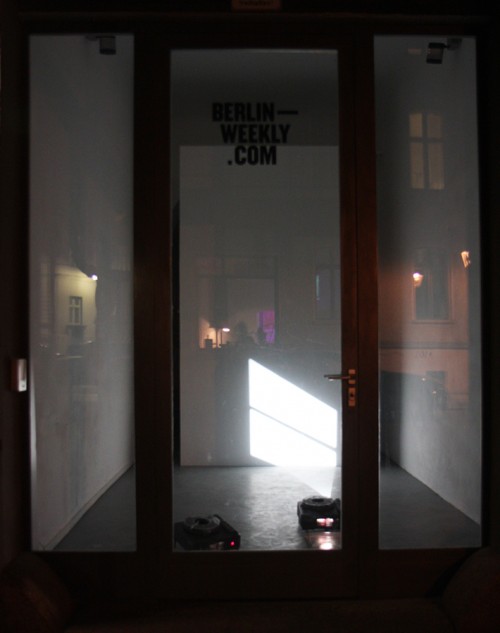 'Notes on duration' by Nina Schuiki
2014, www.ninaschuiki.com
Notes on duration basiert auf einer Bestandsaufnahme von einfallendem Licht in den Projektraum, – sowohl als historische Aufzeichnung so wie als Eingriff, der das Verhältnis von Raum und Zeit verzerrt. Für die Fortsetzung ihrer Arbeitsserie 'Echos' hat die Künstlerin die Umrissformen des einfallenden, reflektierenden Lichts in dem Projektraum vermessen und verzeichnet. Diese ergänzt sie mit aufgenommenen Lichtflächen aus der umgebenden Architektur der Linienstraße. Damit erzeugt sie eine narrative Struktur zwischen den real einfallenden und den projizierten Lichtumrissen. Indem sie den Reflektionen eine spürbare Form gibt, wird das Medium Licht zum Akteur. Die dadurch entstehende Kartographie bereitet dem was eigentlich ephemer und stets im Wandel begriffen ist eine Bühne. Anwesenheit und Abwesenheit verschränken sich für die Dauer der Ausstellung auf eigentümliche Weise.
Engl.
Notes on Duration refers to the inventory of passing moments of incident light, both as a historical record and as an interposition that distorts relations ­between time and space. For this version of the on-going Echoes series, the artist has measured and documented actual silhouettes as they are reflected into the ­project space throughout the day, creating a narrative that plays with the ­real-time ­natural light in the room and the subtle intervention of other ­silhouettes ­recorded from neighbouring architecture on Linienstraße. The resulting map casts light as its actor, outlining the shapes of incidents in time—not only as an alter-geography of urban flux but also as an elusive dialogue between presence and absence.