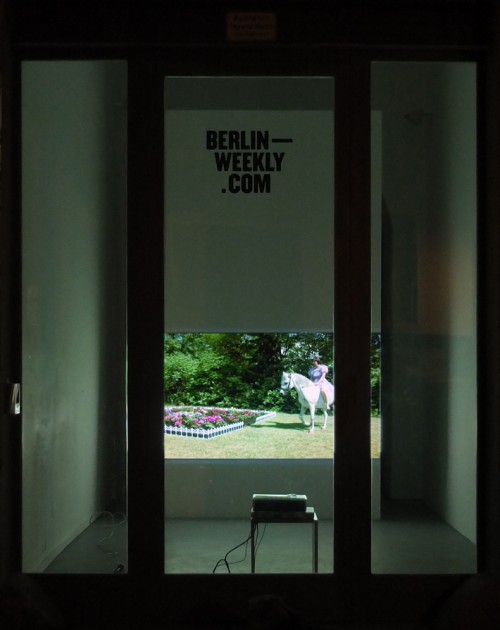 "Unverblümt" by Simone Häckel
2006, 02:31 min, Video Loop.
Im Mittelpunkt von Simone Häckel's Arbeiten stehen menschliche Zustände der Unzulänglichkeit und Imperfektion. In der Videoarbeit "Unverblümt" umkreist eine junge Frau auf dem Rücken eines Pferdes ein Blumenbeet, um es in der nächsten Szene zu zerstören. Es ist ein Tanz zwischen Schüchternheit, Entschiedenheit und Zwiespalt – tänzerisch zwar anmutig, dennoch liegt darin Überwindung, Zerstörung und Aufbruch.
Simone Häckel, geboren 1974 in Hannover, lebt und arbeitet in Berlin. Sie studierte Freie Kunst an der Kunsthochschule in Kassel und Experimentelle Mediengestaltung an der UDK Berlin. Seit 2002 arbeitet Simone Häckel vorwiegend mit dem Medium Video.
In the video work "Unverblümt" " a young woman on horseback circles a flower bed, to destroy it in the next scene. It's a dance between shyness, determination and discord, not a straightforward ride. The flowerbed is the stage, whose boundaries are rarely broken. Although gracefully performed, her riding action shows destruction, eruption and awakening.
Simone Häckel, born 1974 in Hannover, lives and works in Berlin. She studied Fine Art at the Kunsthochschule Kassel and Experimental Media Design at the UDK in Berlin. Since 2002 she mainly is working with the medium of video.